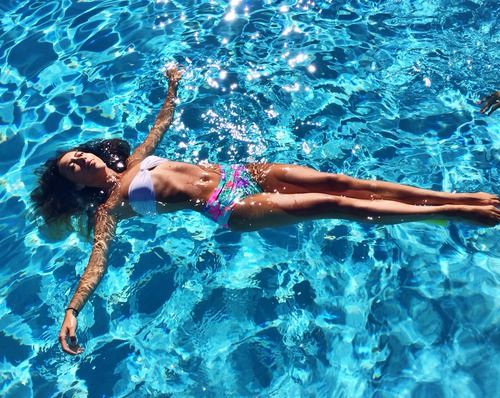 Skin. First of all, today is the day for a new label on the blog. That's right, I'll start posting about beauty, specifically my beauty routines, my favorite products, new products that promise wonders, some review's if you want, but mostly some tricks and skin care that I acquired over time with different experiences. I warn you that everything I´ll talk here works with my skin but it may not work so well with yours. So try different products until you find the perfect balance for your skin!
So with that said, I find appropriate for summer and for my very first beauty post, a little talk about my skin care routine for a day on the beach. Starting with my skin type: besides having the misfortune to have an extremely dry skin, I also have a sensitive one (genetics, thank you). So the ideal for me is to moisturize and protect the most. So, what I do before leaving the house to go to the beach is first applying a moisturizer all over my body. I'm currently using (and abusing) the
"Purely Pampering" with coconut milk and jasmine petals for dry skin from Dove
. I bought this product on sale at a drugstore and since then I haven´t used anything else, besides moisturize my skin quite well, also leaves a pleasant scent. Makes you want to lick all your skin (ok, joking!). After leaving it dry (and act), the essential step: sunscreen. After several failed attempts, I finally found one suitable for my skin (Yei me!), the
"Sun Protection SPF 50+" for sensitive skin from Farline
. Since I started using this sunscreen I never suffered from sunburns anymore (I also have a very light skin) and also helped with moisturizing my skin. Two words to describe it: LOVE IT! To replace my usual facial cream (which I'll talk on another post) I use
"Hydrance Optimale Light Protective Hydrating Cream SPF 20" for sensitive skin from Avène
. Of course that is not enough so I apply a light layer of my Farline sunscreen too. And I'm ready for a day on the sun with my protected skin! The best advices I can give you are finding out your skin type and suit the different products. Don´t purchase those that claim to be right for all skin types. Your skin is unique and deserve good care, never forget that.